Furnace and Duct Cleaning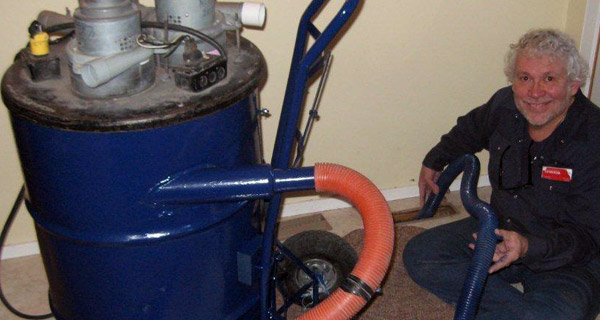 We have developed a new method of duct cleaning to replace the old style truck system of duct cleaning. Our new method of cleaning furnaces and ducts in Calgary uses large portable vacuums with extremely strong suction  power (we have pulled bricks out of the ductwork with out hoses). Our method involves running round duct brushes down your individual ducts to loosen the material, then we run our powerful vacuum hoses down the ducts to remove the material. We then open up the large rectangular ducts in your basement and we use long rigid vacuum brushes to brush and vacuum the large main ducts from one end to the other.  We have gone down as far as eighty feet. Because we apply direct brushing and vacuum at all points of the duct system we can remove 95 to 98% of the dust and debris from your duct system.  
Ian's Furnace Service is the only company in the city of Calgary that uses this new method of duct cleaning that delivers virtually 100% dust removal.
In regards to furnace cleaning and service in Calgary, we only use qualified heating journeyman, gas engineers, or legally indentured apprentices working under a journeyman. We use servicemen that are highly trained in the gas trade which not only clean your furnace but do a complete safety check and tune-up on the furnace as well, and are able to identify dangerous situations, and perform the required repairs.
To summarize, we directly brush and vacuum your entire duct system, and we use properly trained personnel on your furnace to deliver the finest results of dust removal and furnace cleaning, service and safety in Calgary.
Call today to discover the most thorough, effective and safe furnace and duct cleaning service in the city of Calgary.
Old duct cleaning methods
There is an old method of duct cleaning where a truck is parked outside, a large vacuum hose is run into the furnace and compressed air is blown down the individual ducts.  I have never used the truck method in 37 years because I believe it is ineffective.  And I will tell you why. 
The truck is often parked 100 to 200 feet away from the furnace. There has already been a huge loss of suction before their large hose even reaches the furnace.
The large vacuum hose is attached at the furnace or the ductwork near the furnace, and the vacuum is diluted through 300 – 1000 feet of leaky ductwork.  I have seen it where there is so little vacuum power left there was not enough vacuum to even suck a sheet of newspaper down.
Because their vacuum is ineffective, they use various compressed air devices (air whips, skippers, etc) to try and blow the material towards the furnace.  This is frequently ineffective because the main vacuum is too weak to grab the material. 
I have personally heard of hundreds of cases where the compressed air has blown huge amounts of dust and debris throughout the house because of their lack of strong vacuum power to grab the debris.
The trucks often ignore the large rectangular main ducts that are often hidden above developed ceilings in the basement, thereby leaving large amounts of dust and debris behind. 
It is my belief that the truck method often only removes 1/3 to 2/3's of the debris. 
If the furnace fan was extremely dirty there can be a doubling or tripling of the air volume in the duct system.  In this case dirt and dust that is left behind actually comes blowing out with 2 or 3 times the force that it did before, actually resulting in a worse situation of dust and debris blowing through the house.
Of even greater importance is that in my opinion and experience of doing doing furnace and duct cleaning in Calgary for 37 years, nearly all of the so called service that these companies do is done by personnel that are neither journeymen or apprentices in the gas industry and have no formal training in gas work that is recognized by the provincial government. It is one thing to have amateurs painting your house or building your fence.  Do you want people working on your furnace who have no provincially recognized formal training and cannot even recognize a potentially deadly situation when it is staring them in the face? I have seen hundreds of situations over the last 37 years where these so called furnace cleaning companies have promised homeowners a comprehensive service check, but in reality the people doing the service do not have a clue how to do a thorough safety check on a furnace. There is only one question you need to ask of a company doing furnace cleaning, IS THE PERSON SERVICING MY FURNACE A JOURNEYMAN, GAS ENGINEER, OR A LEGALLY INDENTURED APPRENTICE WORKING UNDER A JOURNEYMAN?  IF THE ANSWER IS NO, YOU ARE TAKING YOUR LIFE IN YOUR HANDS BY USING UNQUALIFIED PEOPLE TO WORK ON YOUR FURNACE.
Do not take a chance on having unqualified people work on your furnace.  Call Ian's Furnace Service to book a furnace and duct cleaning job, that will be done properly, leaving you and your family with safety and security and lower heating costs.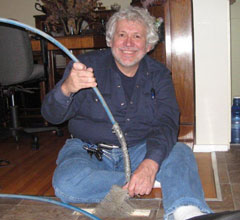 Brushing an individual duct.